September 11, 2019
OWL'S NEST - BURNING MAN 2019 - the making of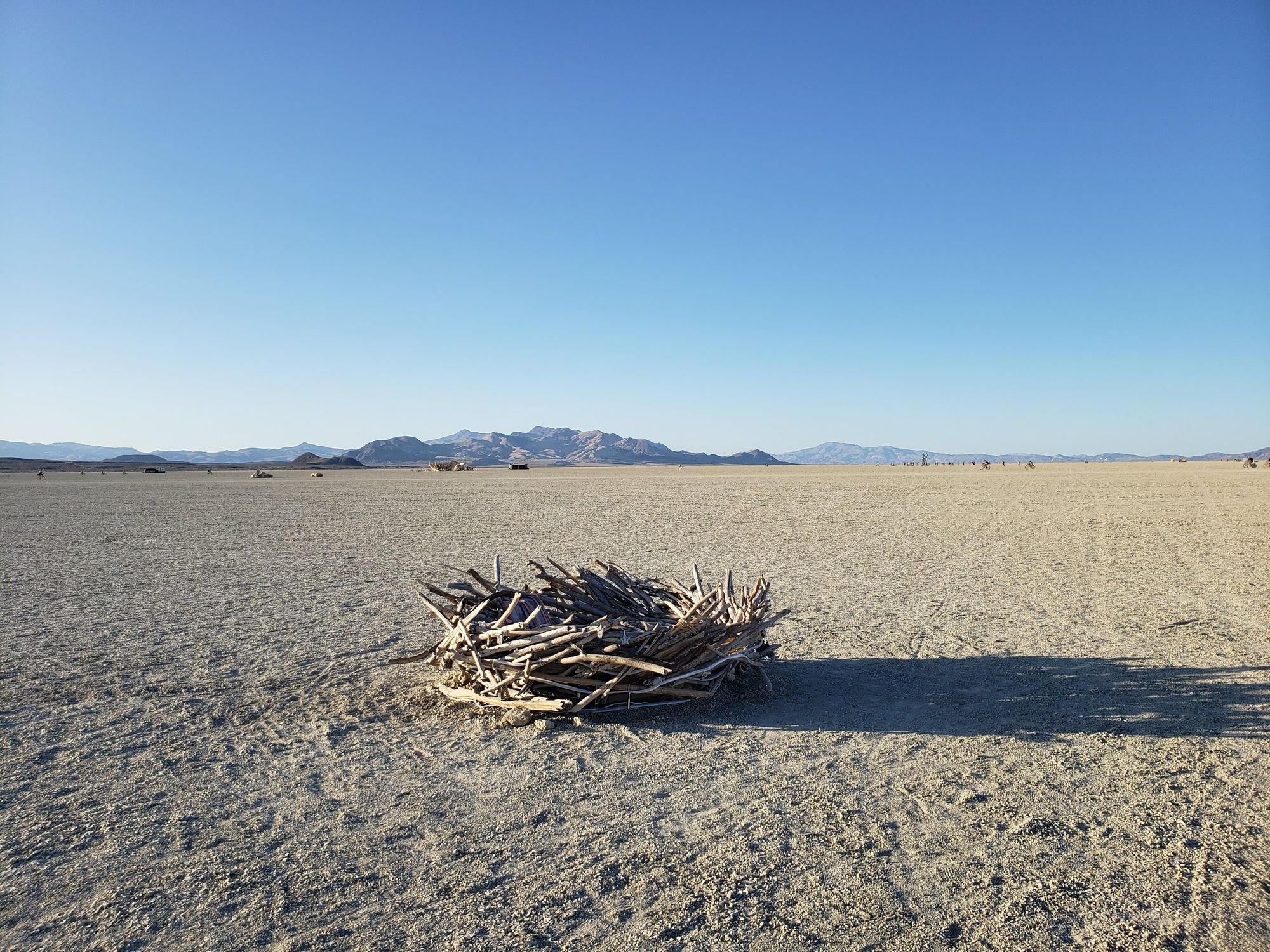 We did it. We managed to bring our first art piece to the playa - and it was the most beautiful and fulfilling experience from all my 7 burns in a row. My most amazing thing from this year was biking to our nest for refilling the generator to find some awesome new people living their own stories in our nest, to hear their stories and to connect to them. People watched sunrises from the nest, spent nights in it and connected in many ways.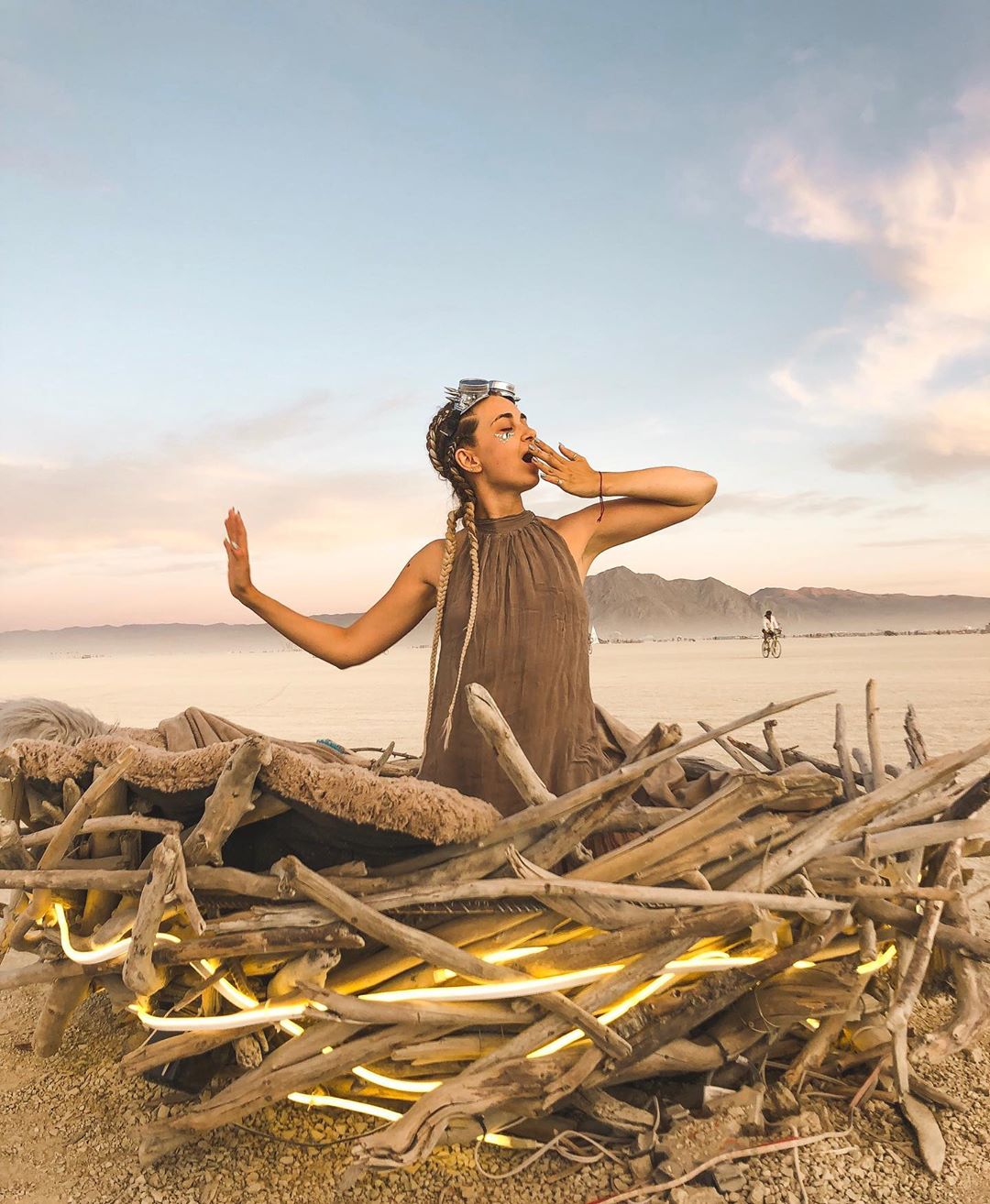 Monday morning, for example, we found a note with the sweetest words of gratitude from some strangers. And Monday evening I've got completely wasted on wine brought by the lady who was watching the sunset from our nest, so I've almost missed family dinner which was cooked by my wife at this time in the camp. Playa time and immediacy!
We heard stories about the nest every day. Somebody was meeting their friends at it on sunrises. Somebody was watching the Temple burn with some stranger in it. Some newlyweds had their rest in the night in its blankets. Some of our friends were coming to the nest for a few nights in a row trying to catch it empty!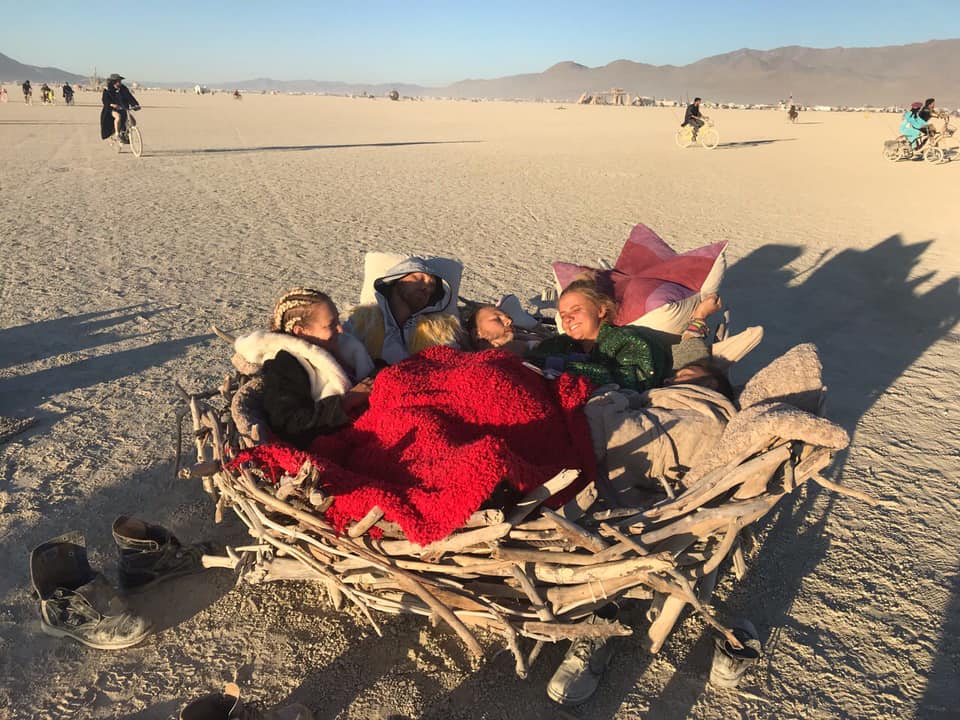 So, how was it made? We made it out of driftwood, which was mounted on the steel rebar frame. It had heated blankets for cold nights and played bird sounds for the complete audio-visual experience. We were also renewing ziplocks with dried fruits and nuts hidden in the branches for the nest guests to snack.
We picked the size of the nest so two people would be comfortable inside but close to each other (though we heard reports of 7 people hanging out there at once). The lighting was made of LED rope light and everything was powered by 2K silent inverter generator. We had to build it in Washington state, from wood collected on one of the beaches there. The reason for that is that you can't bring wood across the border, because of the bark and agricultural reasons, you just can't. So, first of all, we had to weld the frame in Vancouver (thanks to our friends at Vancouver MakerLabs ) and bring it across the border to Washington state.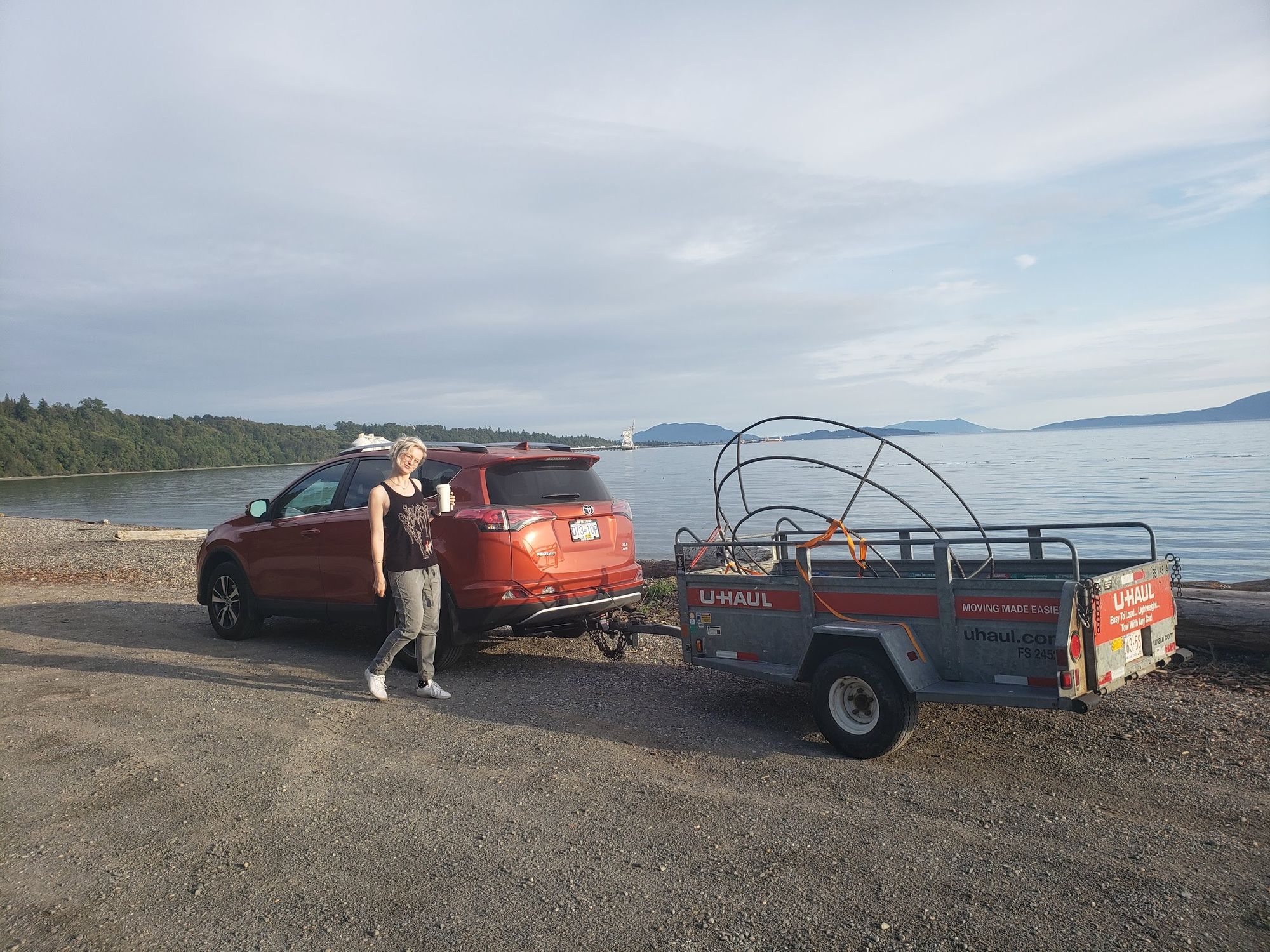 After that, we rented storage across the border and started the nesting process. As real birds do, we went multiple times on that beach and gathered exactly right kind of driftwood we needed. It took us around 3-4 gathering sessions in total. Then, after few days of assembly with a power drill and screws, the nest was ready for the transportation to the Burning Man.
One of unforeseen difficulties was that with each assembly session the nest got heavier and heavier, and if at first it took just 2 people to lift it, in the end we needed 4 to load it on a trailer. So, after approximately a week of heavy building, beach voyages and multiple trips across the US-CANADIAN border we got the NEST on the trailer (which we bought especially for the nest) and headed to the Black Rock desert.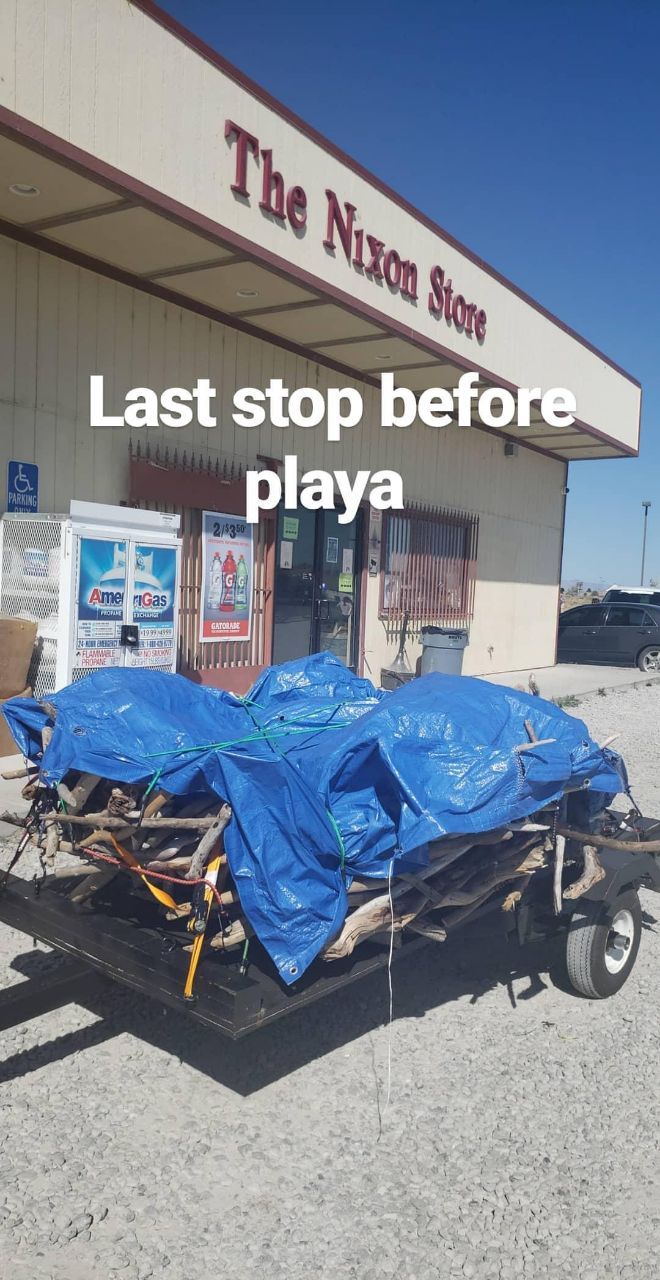 We got the place where we wanted to be - Deep Playa, right on the way from DMZ where big sound art cars were playing at night to the Temple. A bright yellow, warm welcoming dot in the deep playa - exactly as we thought it needs to be. After a day of setting up the lights, sound and all the tiny details where we almost got a heat stroke (I spent few hours in the shade trying to recover after that) the OWL'S NEST was ready to host people who wanted to take a break from all the madness or may be to connect with somebody special.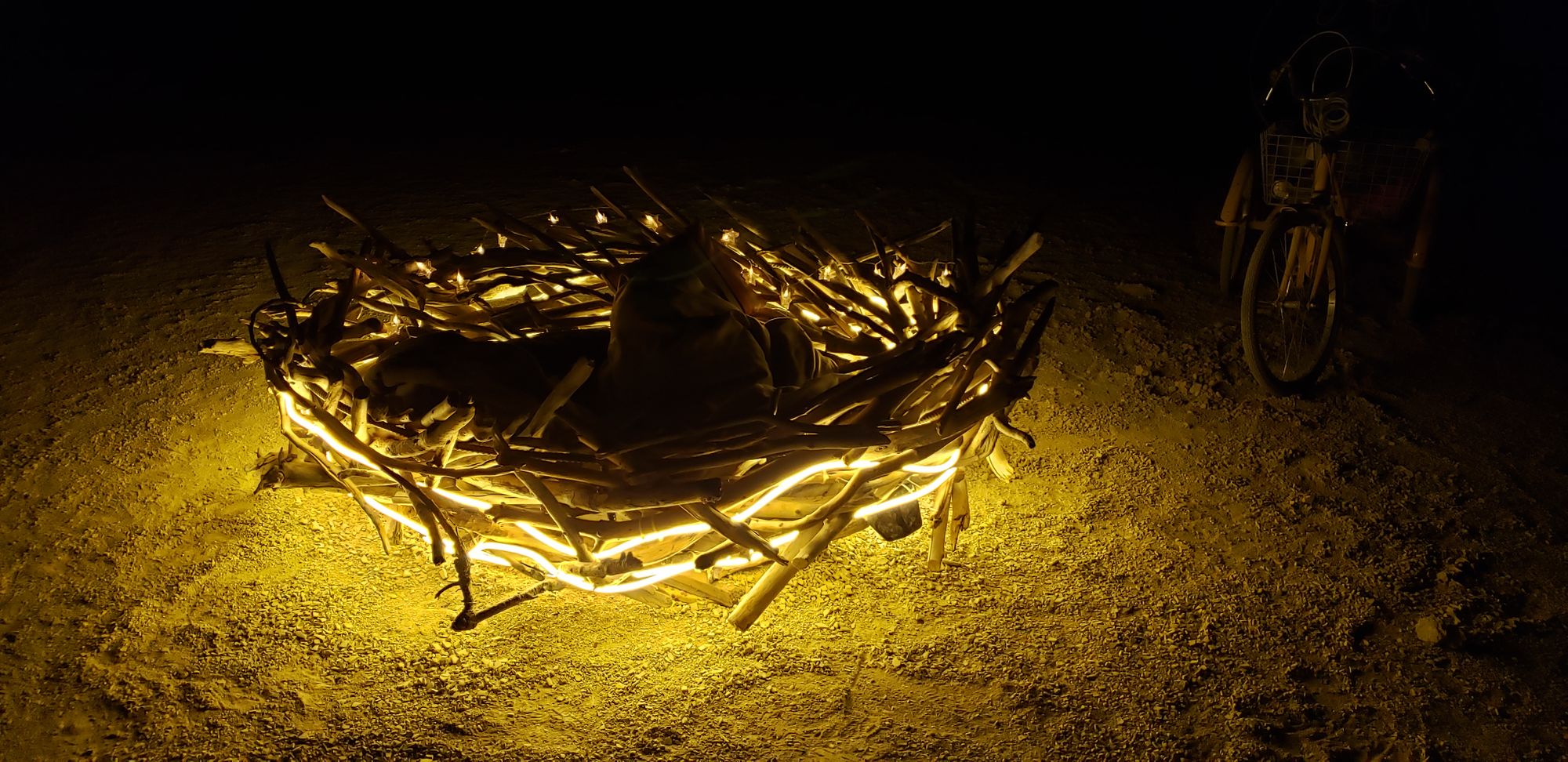 OWL'S NEST turned out to be a living and breathing project - one day in the morning we found that some birds brought more fuzzy pillows to it as the real birds do. Another day, I came to refill the generator and found many people around the nest, a ladder and lots of activity. Turned out another artist was making a photo project about people in the nests, she wasn't able to bring her own nest to this burn, but she found ours instead and continued her art in it!
It took us much more time, brain power and friends' help than we foresaw for such a tiny project - starting with fitting sessions on our couch to define the size of the future nest and through the process of our friends posing in it on playa to find the best placing for pillows and blankets (and now we watch sunrise, and now we sleep, and now...). But it was an awesome experience which was getting even deeper each time when we saw somebody putting a piece of their own thought and emotion into it. We  think that the NEST has no owner or creator, everyone becomes one the moment they make it their temporal home.
---
TEAM, which brought the nest to playa: